Sketching in the field... Show your project's life !
In December 2017, Aurélie Neyret visited the MSF maternity hospital in Khost Afghanistan to create a comic book that would show the lives of the women who come to give birth and the teams working there. But before creating a finalized artwork in her studio, she produced on the ground beautiful sketches that are an opportunity to share the mission's life.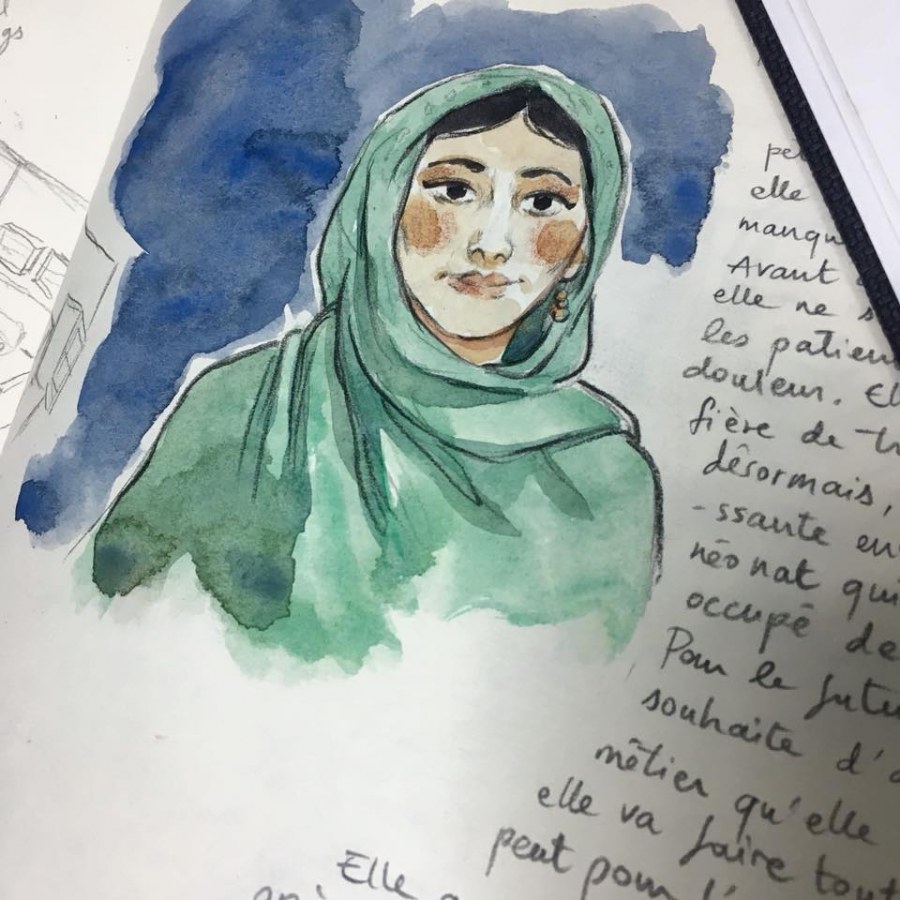 Making an Ink Link project takes time. For the end result to be moving, to represent real stories, the artists must meet the people from the field and attend the daily projects...
However, during field missions our artists often fill sketchbooks that are lively testimonials. Sharing these drawings is also an opportunity to develop a specific campaign, for example on social networks, which will show another side of the daily life of NGOs and Institutions.
Aurélie's notebooks are a good illustration of the possibilities offered by field sketching. The images below with their comments were posted between December 5th and 27th, 2016.
Here is her story:
Today, I went to Dasht E Barchi hospital in Kabul, in an area with a big Hazara community. Hazaras are an ethnic minority in Afghanistan, they have strong Asian origins and are Shia (Chiites).
They are less conservative than other ethnic groups (regarding Afghan standards obviously) so I was able to freely walk around everywhere and talk to many women with the help of translators. Even to delivery room.
There I have seen something raw, brutal, ancient, fragile and beautiful. I witnessed the incredibly humbling strength of the women, these ladies are warriors, really. I have seen the battle for life that is the oldest thing.
I've heard a baby's first scream into this world.
I have seen a child being born. :')
| | |
| --- | --- |
| | I've seen this baby boy's first encounter with the world. In Afghanistan they only name babies after a few hours or days, so he didn't had a name yet. Moqadisa is the mum's name. I loved that we were only females in the room, the solidarity it creates. When he was born we naturally held hands with Caitlin, the MSF communication manager who was visiting with me, and I shed a little tear. |
| This little girl was in intensive care because she couldn't breathe normally on her own yet. | |
| | The local staff was amazing. Some of these women have terrible stories (like their husbands being forced to go as refugees in Europe because here they get abducted and sometimes worse by the Talibans). I photocopied my sketches to give them as a souvenir and they were so happy. It was moving to see how caring they were with the patients, holding their hands and gently touching their foreheads, like a mum would do. |
| "Zoor" means "push" | |
| | Labor... the women were so brave, they barely scream or cry, even during the pretty hardcore parts like episiotomy with only lidocaine ... |
| Carmel is an Australian lady working at the hospital. | |
| | Pretty intense day, huh! |
Quelques croquis à l'hôpital MSF Afghanistan Ahmed Shah Baba à Kaboul.
Situé dans un quartier très pauvre, cet hôpital n'est pas seulement une maternité. Les habitants y vont aussi pour être vaccinés ou pour consulter un docteur quand leurs enfants sont malades.
Cette fois encore, l'équipe MSF, expatriés et locaux, est inspirante et passionnée, avec de nombreuses anecdotes, joyeuses ou plus tristes.
Je n'ai pas pu y passer beaucoup de temps pour des questions de logistique mais demain, une nouvelle destination m'attend... Si tout se passe comme prévu, ce qui n'est jamais sûr en Afghanistan !
| | |
| --- | --- |
| | Small babies with complicated beginnings... They are in good hands though. |
| She will find out soon enough, Doc ! Doctor Momen is a proud father of 4, and 3 are girls. Guess what, they all want to be doctors when they grow up | |
| | 19 days old little Khairullah suffered from an infection but he recovered well and was authorized to go back home tomorrow ! |
| A mother waiting for her baby to get better. | |
| | So much colors ! |
| Eastern Kabul suburbs | |
La maternité Médecins Sans Frontières de Khost est une des plus grandes au monde. Ces dernières 24 heures, ils ont eu 83 naissances, une vraie usine à bébé !
Nous sommes à 30 kilomètres de la frontière du Pakistan, dans un territoire pachtoune. C'est un groupe ehtnique très conservateur, être une femme ici est une lutte constante, dès le moment où elles naissent. Chaque femme ici est une battante, et pourtant elles sont toutes très accueillantes, aimantes et attentionnées. Mon coeur les remercie infiniment chaque seconde.
Le travail de MSF dans cette communauté agit sur la santé bien sûr, grâce à un endroit sûr pour accoucher et une grande qualité de soins mais il impacte aussi la vie sociale. Médecins sans frontières est le premier employeur de femmes dans cette région. Habituellement les femmes ne travaillent pas ; ici nombreuses sont celles qui viennent de villages défavorisés, elles y trouvent un accès à un travail et à une éducation. Elles commencent par des heures de ménage puis s'inspirant des autres, elles se dépassent pour devenir sages-femmes. Tout ceci, en élevant parallèlement leurs propres enfants. Elles créent entre elles de très fortes relations, comme des soeurs.
Je suis aussi très émue par le lien entre l'équipe d'internationaux : 2 hommes et 10 femmes déterminés de 26 à 70 ans, qui viennent de 8 différents pays et qui font vivre ce lieu avec tellement d'énergie et d'amour !
| | |
| --- | --- |
| | We are here |
| Respecting the local culture and religion is crucial. Everything Msf does, our safety as well, depends on the acceptation of the population and good reputation. Every progress is hard work and a very slow process to build trust and show people the benefits of improving the access to health care. | |
| | One of the midwives, she is a true sunshine, always singing and hugging us, smiling all the time. This morning she picked a little rose from the garden and pined it into my hair |
| Babies are more comfortable when they are wrapped, and it makes them look even more adorable. | |
| | Another midwife |
| New born babies stay in the maternity for minimum 6 hours. Msf also provides vaccination, health promotion and family planning. | |
| | Esther is from Kenya and she supervises the midwives. Just by looking at her you can see how much she loves these girls. |
| Khost city. Despite the colorful walls of the compound, this is still a war country. But like everywhere else, life goes on. | |
| | Clear blue sky, dusty roads and beautiful mountains. |
| Our ride. | |
| | Some of the patients come from very far. From our privileged point of view it's easy to forget that in many places of the world, especially in war countries, people do risk their life to access health care. |
| A new born baby boy. His mum was bleeding a lot but she was fine eventually. | |
L'Afghanistan a un des taux de mortalité infantile et maternelle les plus élevés au monde. Parlons des héros du quotidien qui travaillent ici, à la maternité Médecins sans frontières de Khost, et donnent aux femmes et aux bébés les chances qu'ils méritent.
L'éducation est un autre axe très important du projet, il est crucial d'augmenter le nombre de personnes locales qualifiées pour améliorer durablement la situation. C'est une belle leçon d'humilité de les voir tous travailler si dur et transmettre leurs connaissances.
| | |
| --- | --- |
| | |
| Health promotion is an important aspect of the project. It's not only about the care people receive here, for everyone's safety, it's also important to improve behaviors at home. | |
| | For many women, working here is also an opportunity to make friends, which is new in many cases. Usually, women only get to live with their family. |
| Gulia is one of the expat gynecologists. She constantly encourages her nurses in a very pedagogical way. For me it was the first c-section, it was interesting ! | |
| | Judith, the anesthetist, is so inspiring. She has been helping women to give birth for longer than I live. |
| The in-patients department is the place where women and babies rest for at least 6 hours after delivery. | |
| | Working hard to become a doctor. When asked what inspired this ambition, most people answer that here in Afghanistan, the need for qualified doctors and medical staff is huge. |
| A visit to the neo natal ward, where prematurely born babies are under the good care of the pediatricians. Such babies born at home would have zero chance to survive, but here they are saving 4 in 5 babies... | |
| | A few weeks ago, some quintuplets were born in the maternity. One of them didn't survive, but it's still a miracle that the 4 others are here, fighting. They improved a lot during the last weeks. |
| In the neo natal ward, the mothers too play a big part, feeding their babies every few hours. This beautiful lady gave birth to small twins girls, who were under 2 kilos, but now one of them already gained enough weight to go home, and the other is getting stronger every day. | |
| | One of the tiny babies. |
| Sometimes there are good surprises too! This little girl was born at 34 weeks, everyone excepted her to be too small but she was so alive and big already, she didn't even need to go to the neo natal ward ! Fierce little strength of nature. | |
| | Between 60 and 80 births a day, the delivery room can be really crowded. |
| Some midwives give birth here, where they work. This one told us that before having her first child, she didn't realize how much pain the patients go through and the amount of work that is asked from them. Now she will even be a better and more compassionate midwife. | |
| | Giulia is training some midwives from Khost provincial hospital and MSF supported community health centers in the area. |
| With the help of a good English speaking gynecologist | |
| | My first time in an operation theater ! Human body is incredible |
A Khost, les hommes et les femmes sont séparés. Cela signifie que la majorité des équipes est féminine : sages-femmes, médecins, nettoyeuses, pharmaciennes, promotrice de la santé, infirmières. Ceci étant dit, les hommes jouent un rôle important pour la sécurité et la santé des femmes.
Chaque fois qu'une femme vient à la maternité, un proche masculin l'attend dans un espace à part jusqu'à ce qu'elle soit prête à rentrer chez elle, ou s'il y a besoin d'une décision concernant une opération vitale comme une césarienne. Ils sont aussi, comme les patientes, éduqués sur l'importance de l'accès aux soins médicaux, de l'allaitement et de la planification familiale.
Evidemment, des docteurs et d'autres professionnels participent aussi au bon fonctionnement de la maternité.
| | |
| --- | --- |
| | Abdul Rahim is the health promotion manager for MSF in Khost. One of his many tasks is to discuss with tribal elders to find areas in the community where it's safe for MSF teams to educate the local population regarding awareness of danger signs in pregnancy and the importance of accessing health care for a safe delivery. |
| Fire bearded Barakat Shah directly educates the male care takers when they take their pregnant wives, sisters, daughters in law to the maternity. | |
| | A care taker who brought his daughter in law from very far. The reputation of MSF maternity has spread in the area. |
| This young man has learnt a lot during the health promotion session. The younger the better. | |
| | A lot of these young kids were born in Khost maternity. |
| Doctor Rahmatullah works at the neo natal ward, where he takes care of the most vulnerable babies. | |
| | When I asked Doctor Akbar if he would work anywhere else if he had the chance, he told me that he wouldn't, because his people needs him here. |
| Dr Zarif loves to take care of the small babies. | |
| | Doctor Fazar Rahman is a young anesthetist working in the operation theatre. |
C'est important de développer un réseau de lieux dédiés à la santé où plus de personnes pourront accéder à des services de qualité, une maternité ne suffit pas pour les besoins de la région. Avec ses 5 centres communautaires autour de Khost, Médecins sans frontières soutient d'autres organisations, appelées OHPM, pour former les sages-femmes locales qui travailleront dur à fournir les meilleurs soins possibles aux femmes et enfants de la région.
| | |
| --- | --- |
| | Joyce comes from Kenya and is the outreach midwife supervisor, she trains local community midwives in the maternity in Khost and also visits them in the community health centers when they go back to work. |
| Incredibly beautiful Afghan ladies are like a hidden treasure. | |
| | Many young children come to the CHC with their parents for treatment, since there isn't only a maternity service there. |
| This little girl came with her parents and her young brother for vaccination. | |
| | This boy was protecting himself from the biting cold and the dust. |
| The countryside on the way to Gurbuz | |
| | Midwives learn, work, live together during their long shifts. |